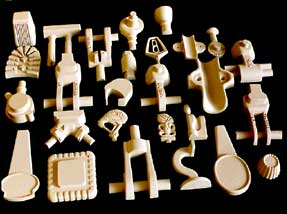 Gibson Patterns is a long-established family-owned engineering pattern making business – established in Christchurch, Canterbury, New Zealand, in 1954.
With over 50 years experience in the pattern making industry it is our aim to continue to offer our customers a professional and confidential service at a cost effective rate.
With five qualified pattern makers we can offer a wide range of hands-on expertise from small one-off jobs to large production tooling.
| | |
| --- | --- |
| | |
| | General engineering pattern making in wood, fibreglass and metal |
| | Specialist pattern making for vacuum-forming and roto-moulding industries |
| | Special plastics and polystyrene moulds, and models for one-off designs |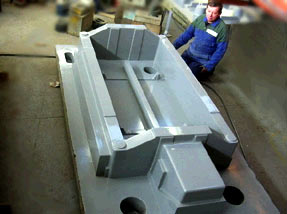 We can provide sample castings of any patterns produced, through to production runs of finished machined ferrous and non-ferrous castings. We also produce high quality Aluminium castings for vacuum forming tools and polystyrene moulds.
Patterns we have produced include:
Water jet propulsion units: intakes, tailpipes, reverse ducts,
steering nozzles
Motorcycle racing engines: heads, barrels, crankcases, side covers
Microlight aircraft engines: crankcases, heads
Models for fibreglass industries: boats & buses
Vacuum-form tooling
Roto-mould tooling
Models
Large one-off and production patterns for iron foundries
Counter weights for forklifts up to 12 tonne
Large siphon pipes, sow moulds, ingote moulds for smelter industries
Machine base castings
Small production castings
Turning jobs up to 2 metres in diameter
Thin sheet forming: food packaging e.g. chocolate, biscuit and Easter-egg trays
Thick sheet forming: sign pans, bus parts (trim), tooling in wood and metal
See our pattern gallery for samples of the above work.
For cost-effective, professional pattern making, contact Mark Gibson today.